CARBON DATING #1
The drivers of these gigantic trucks work 12 hour shifts. By the end of the third day of shooting I was able to find a good vantage point for capturing the trucks as they returned to their base. The owner of the mine was enthusiastic and helpful. At my request he had stopped spraying water on the dusty roads so we could see large contrails. He also stood up on the ridge with me, speaking by radio with all of the drivers to coordinate this long exposure.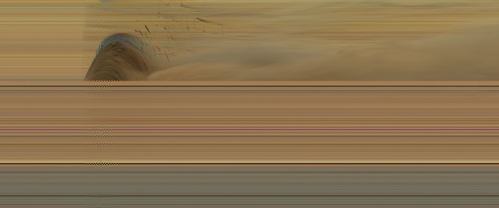 FLY ROCK #1
My trip to the Pine Branch coal mine in Hazard, Kentucky was primarily based on the idea that I would find large, earthmoving vehicles. Ignorant about the processes of this open pit strip mine, I was surprised to learn of the daily explosions occurring on a massive scale. In these two images, about 600,000 tons of rock are blasted out of the side of the mountain. With this image, FLY ROCK #1, I was aiming my camera straight into the explosion. If you look carefully, you can see small vibrating vertical lines where the explosion occurs. This was due to the ground shaking underneath my camera. I often compare my timeline photographs to seismographic images. In this case, the image itself has become a true seismograph.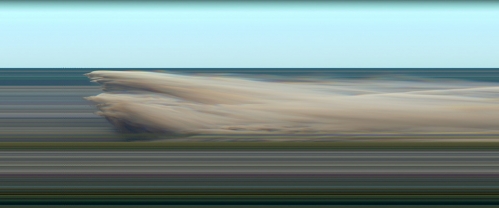 FLY ROCK #2
Similar to FLY ROCK #1, this image show a massive explosion that blasts away hundreds of tons of rock in order to arrive at a small vein of coal.  In this image, rather than shooting directly into the explosion, I shot just to one side of it, allowing the explosion to pass through my picture plane from the right side. You can see the process in the accompanying "making of" image. The owner of the mine is standing at my side. The dust and rock that flies through the air during the explosion is called "fly rock".